Description
Brand Name:

GVDA

Theory:

Infrared Thermometer

Certification:

CE

Certification:

FCC

Origin:

CN(Origin)

Model Number:

ST390 ST490

Max Measuring Temperature:

120°C & Above

Display Type:

DIGITAL

Usage:

Industrial

Power Type:

AAA Battery

Style:

Handheld

Display Size:

1.9 Inches & Under

model:

ST390 ST490 AE320

AE320::

ONE Laser point

ST390 ST490::

13 Laser pointes

AE320 ST390::

-50 °C to 390°C / -58°F-734°F

ST490::

-50 °C to 490°C / -58°F-914°F

High Low Temp. Alarm::

only for ST490

Emissivity(pre-set 0.95): 0.10~1.00:

adjustable only for ST490

Distance to spot size::

12:1

Spectral response::

8-14 um & 500mSec

Repeatability::

1%of reading or 0.1°C

Celsius/Fahrenheit unit switch::

Yes
NEW ARRIVE AE320 INFRARED THERMOMETER
13 LASER POINTSCOLOR LCD INFRARED THERMOMETER 390℃  490℃
Number of codes limited.Valid for shipping from Russia from 2021.5.18-2021.5.31
-185При заказе от 799 CODE:ALIKPLATI185
-265 При заказе от 1199 CODE:ALIKPLATI265
-325 При заказе от 1499 CODE:ALIKPLATI325
-425 При заказе от 1999 CODE:ALIKPLATI425
-455 При заказе от 2399 CODE:ALIKPLATI455
-15usd when ordering over 120, CODE:15HOME
This code is for other countries except Russia
This digital non-contact infrared thermometer is a reliable industrial temperature measuring gun used to measure the surface temperature of an object safely and quickly in less than a second. Can be widely used in oil and chemical industry, railway, electricity, textile processing, etc.
Please note before buying Note: only for industry, not Suitable for human body temperature measuring
---
1.Digital color LCD display with backlight, convenient to read at night.
2.Safely measure surface temperature of hot, hazardous or hard-to-reach objects without contact.
3.Wide Measuring Range, high performance and high accuracy.
4.Includes data locking, switchable laser positioning & auto power off function.
5.Switchable temperature units: Celsius(°C) and Fahrenheit(°F).
6.Low battery indication and laser indication functions.
7.Widely used for measuring the temperature of the object's surface.
---
Measuring Range(AE320 ST390+)

-50 °C to 390°C / -58°F-734°F

Measuring Range(ST490+)

-50 °C to 490°C / -58°F-914°F

ST390+ / ST490+
Accuracy

-50°C(-58°F) to 0 °C(32F)±3°C
0C(32°F) to 100°C(212°F)±2°
100°C here in before±2°C or ±2%
whichever is greater

High Low Temp. Alarm

only for ST490+

Emissivity(pre-set 0.95)

0.10~1.00 adjustableonly for ST490+

Distance to spot size

12:1

Spectral response

8-14 um & 500mSec

Repeatability

1%of reading or 0.1°C

Celsius/Fahrenheit unit switch

Yes

Laser Ponits

13 Points

Ambient operating range

0 to 40°C (32°F to 104°F)

Relative humidity

10-95% RH noncondensing

Storage temperature

-20 to 60°C (-4°Fto 140°F)

Data Hold function

Yes

Laser pointer hot spot location

Yes

Auto power off function

Yes

Power

9v Alkaline  (not include)

Packing Contents

1pc Infrared thermometer 1pc user manual 1pc Gift box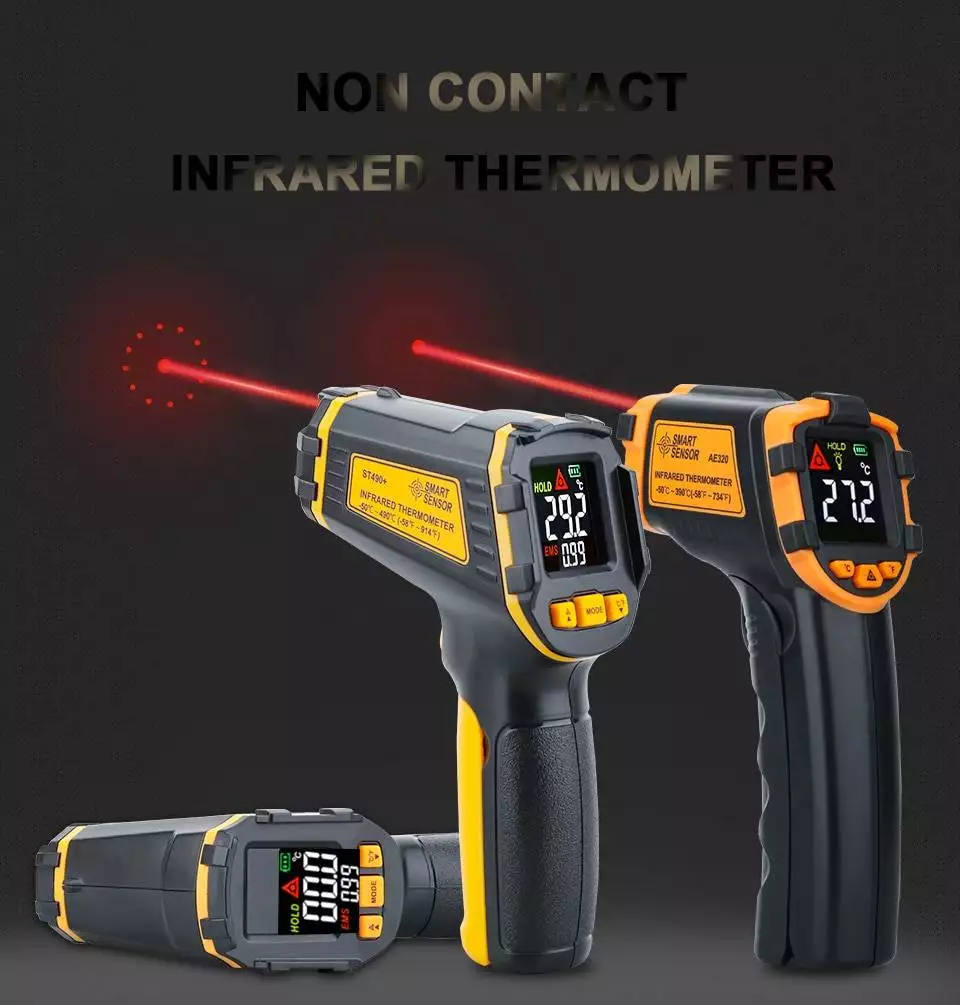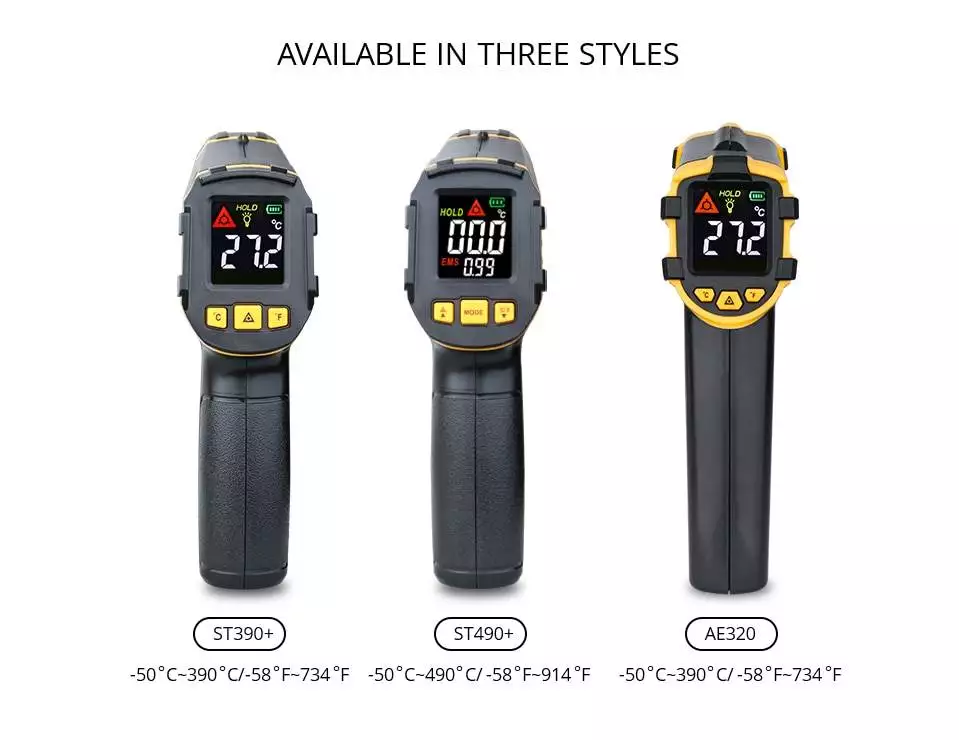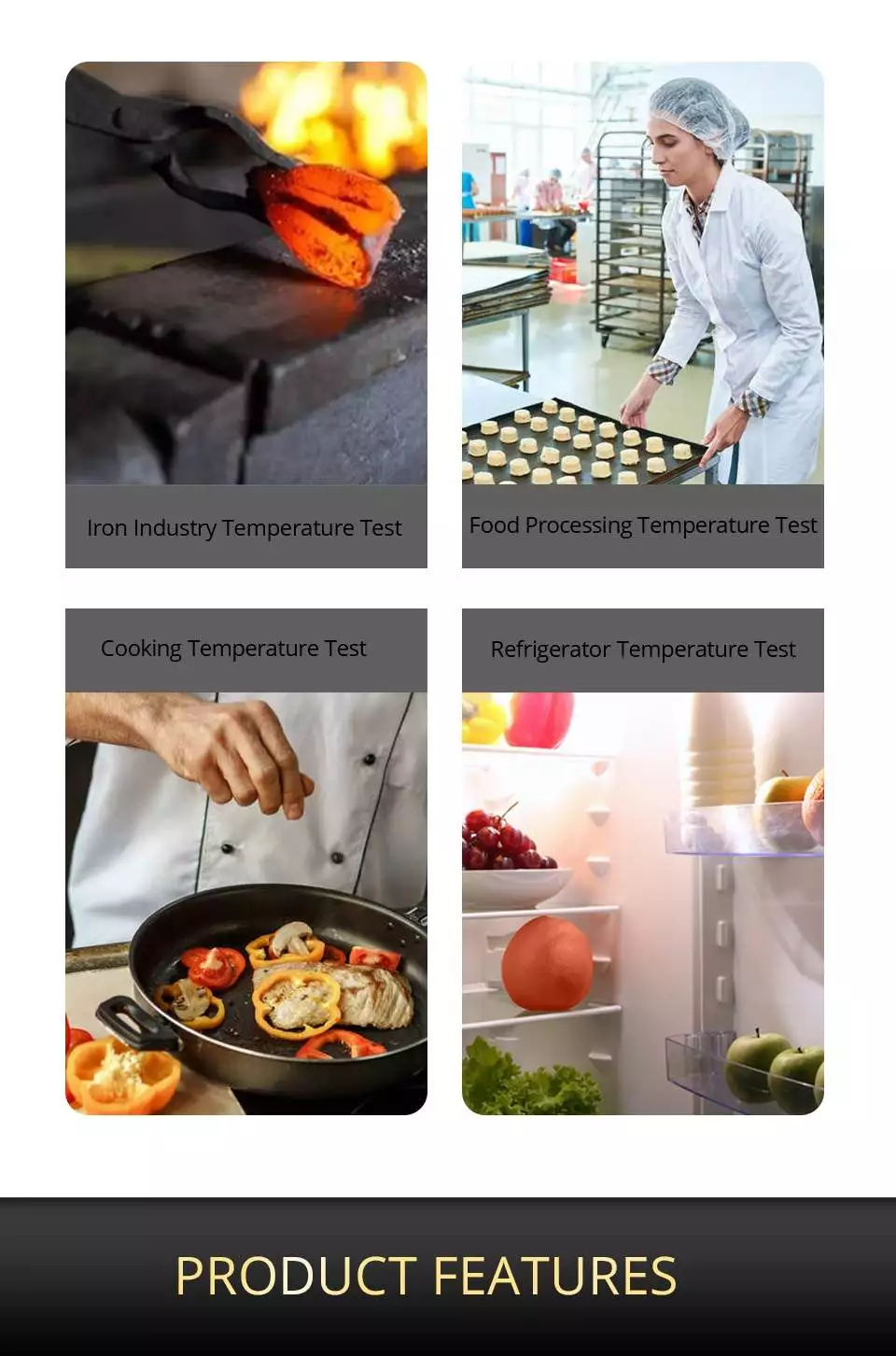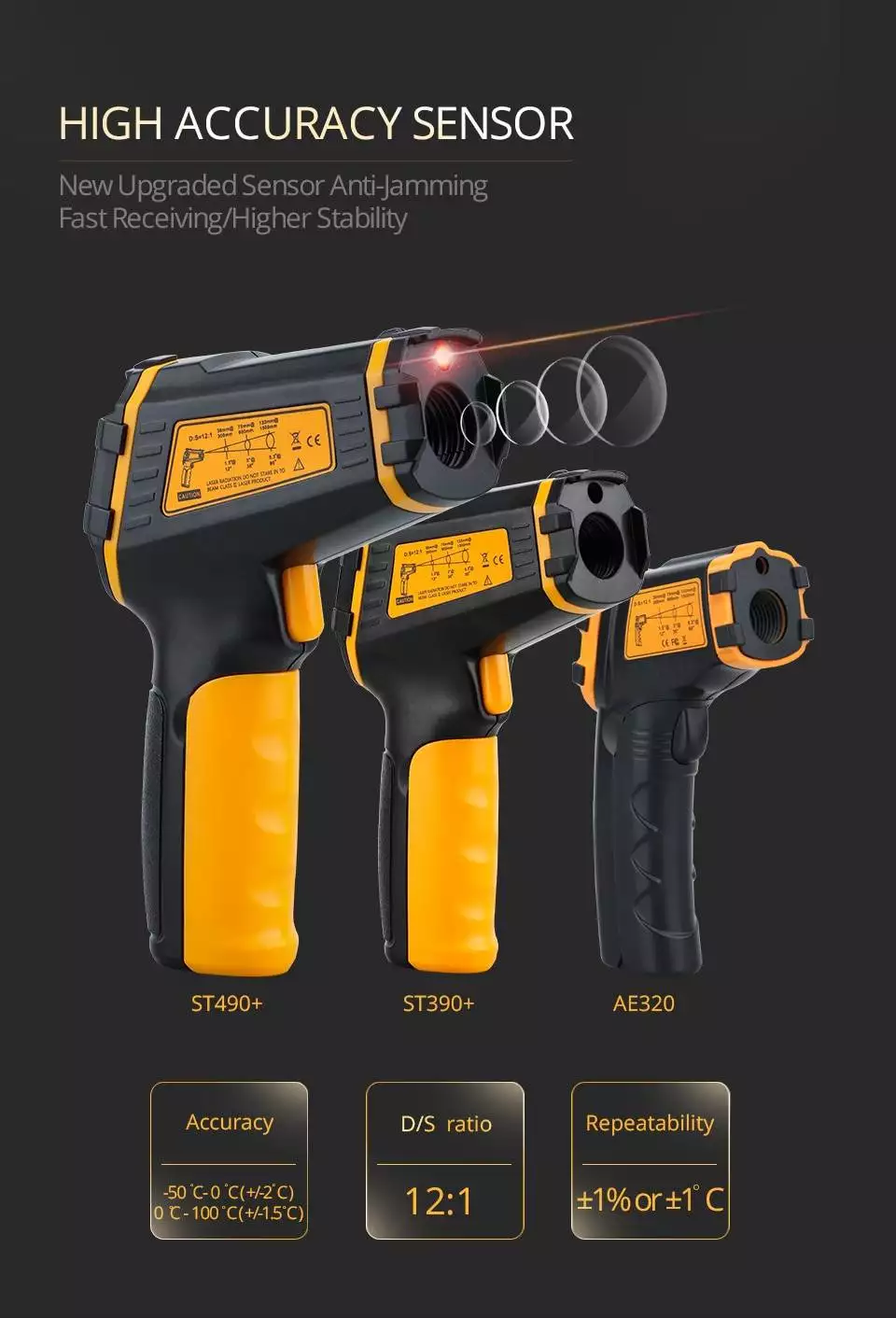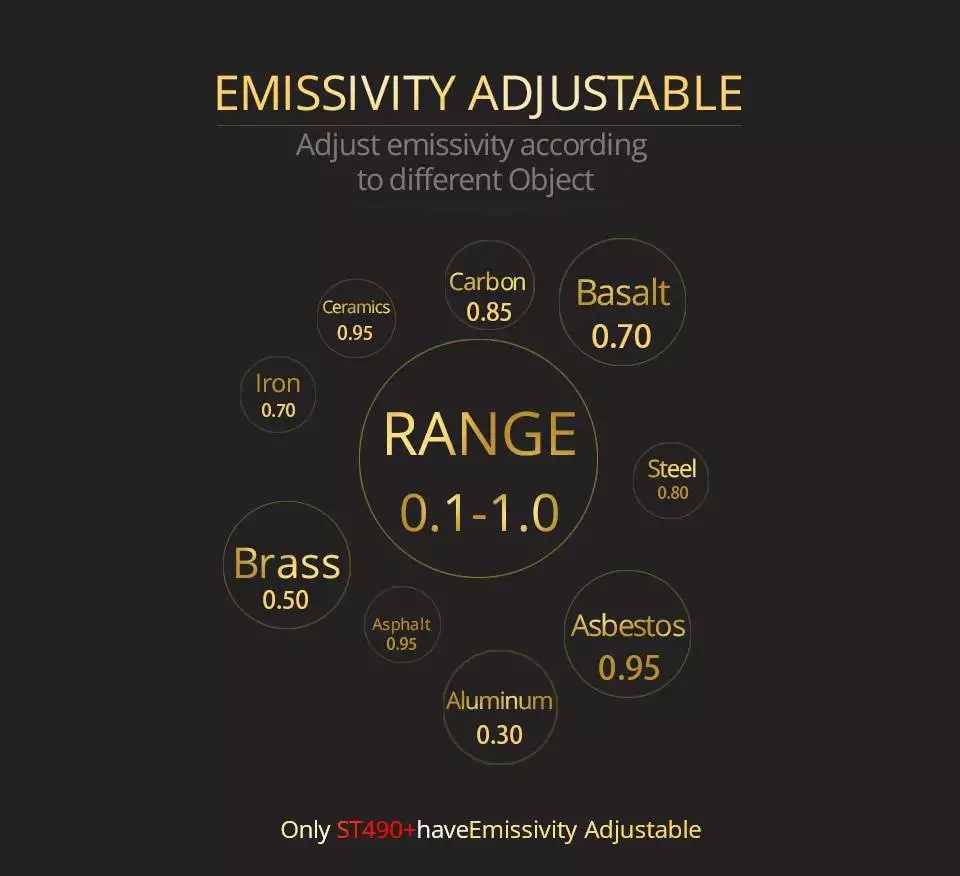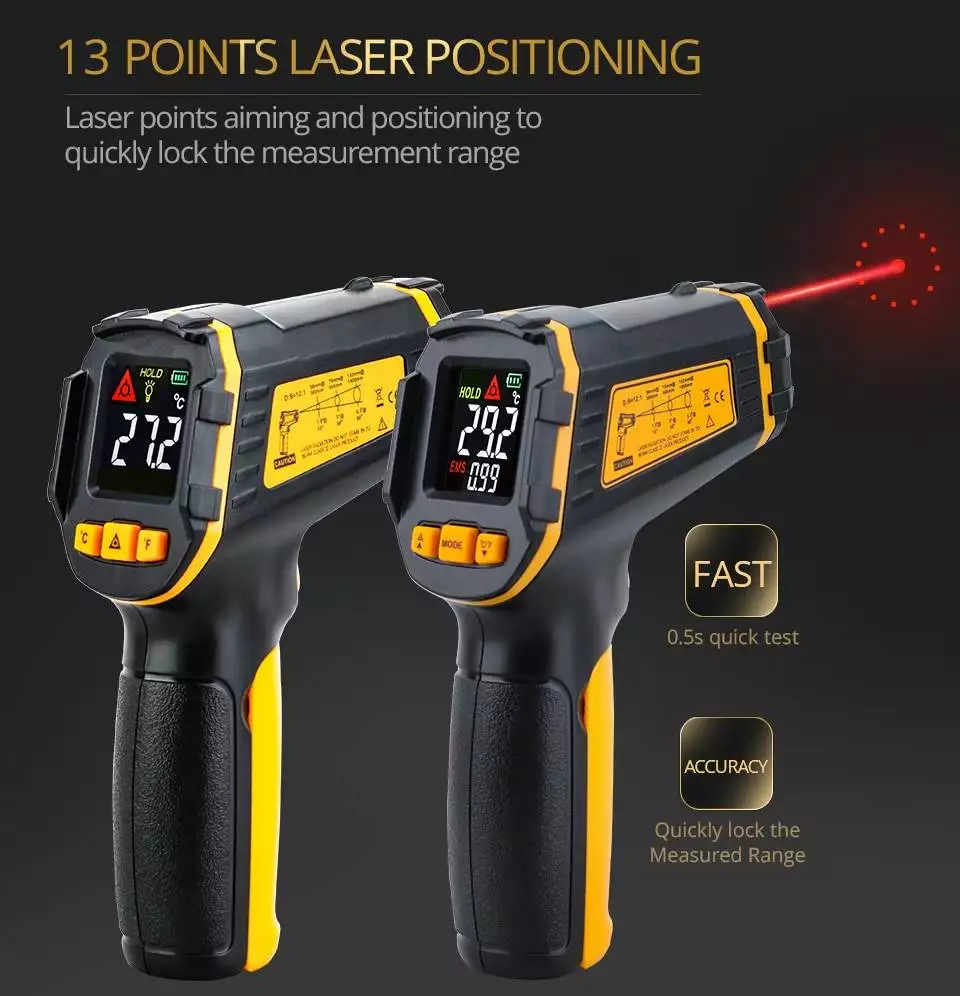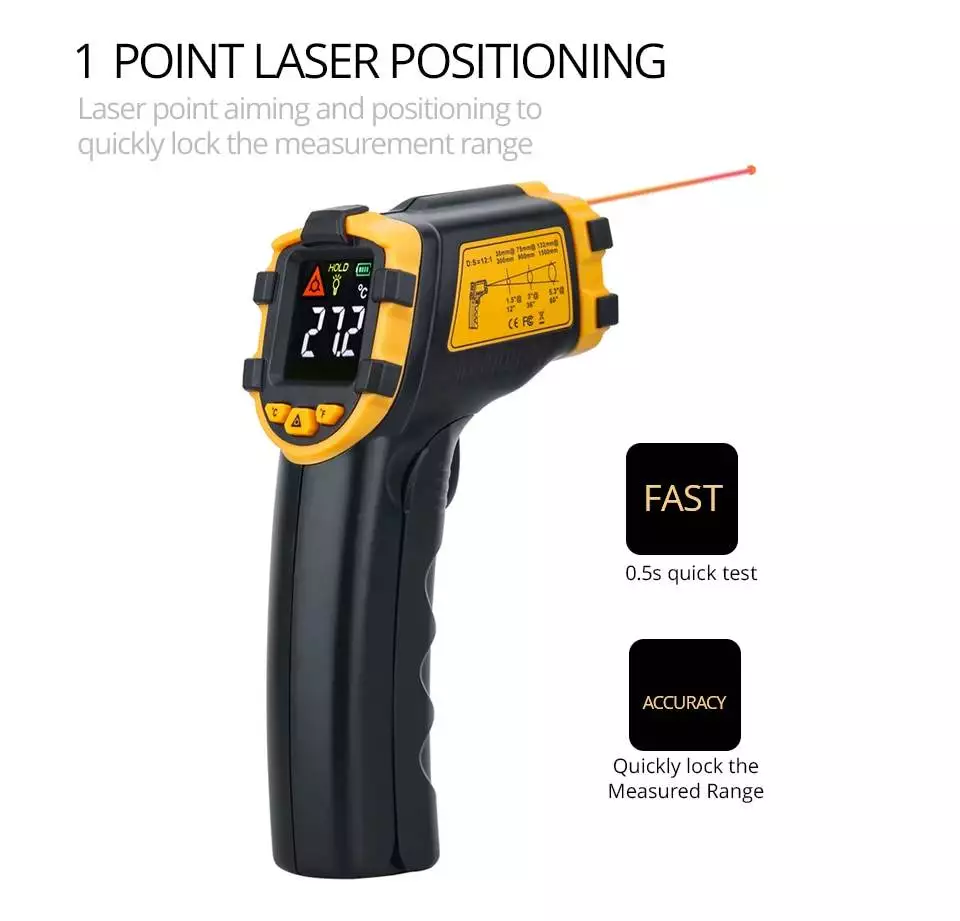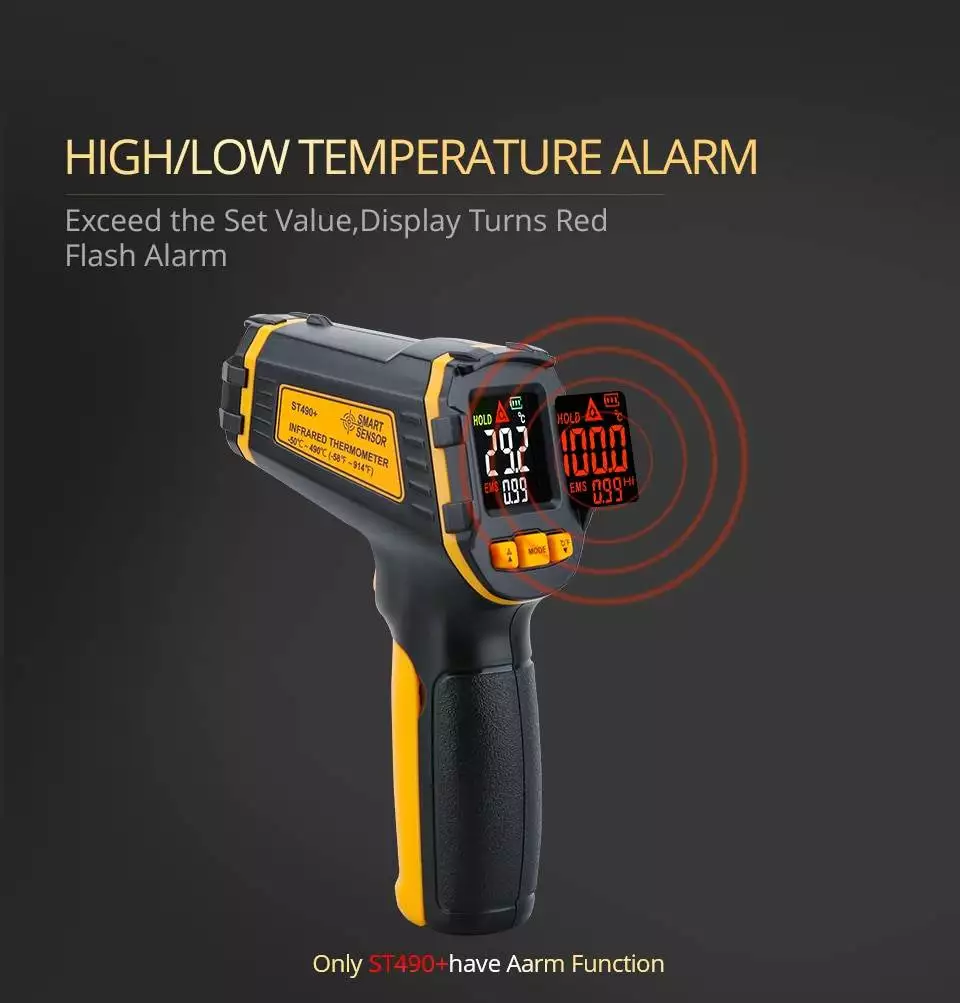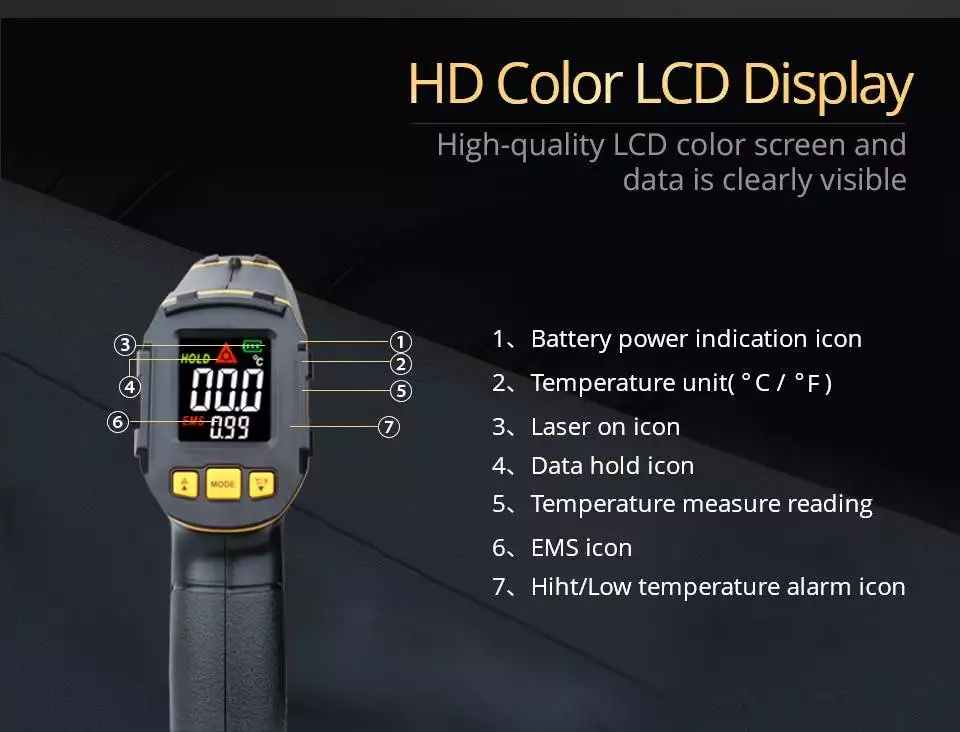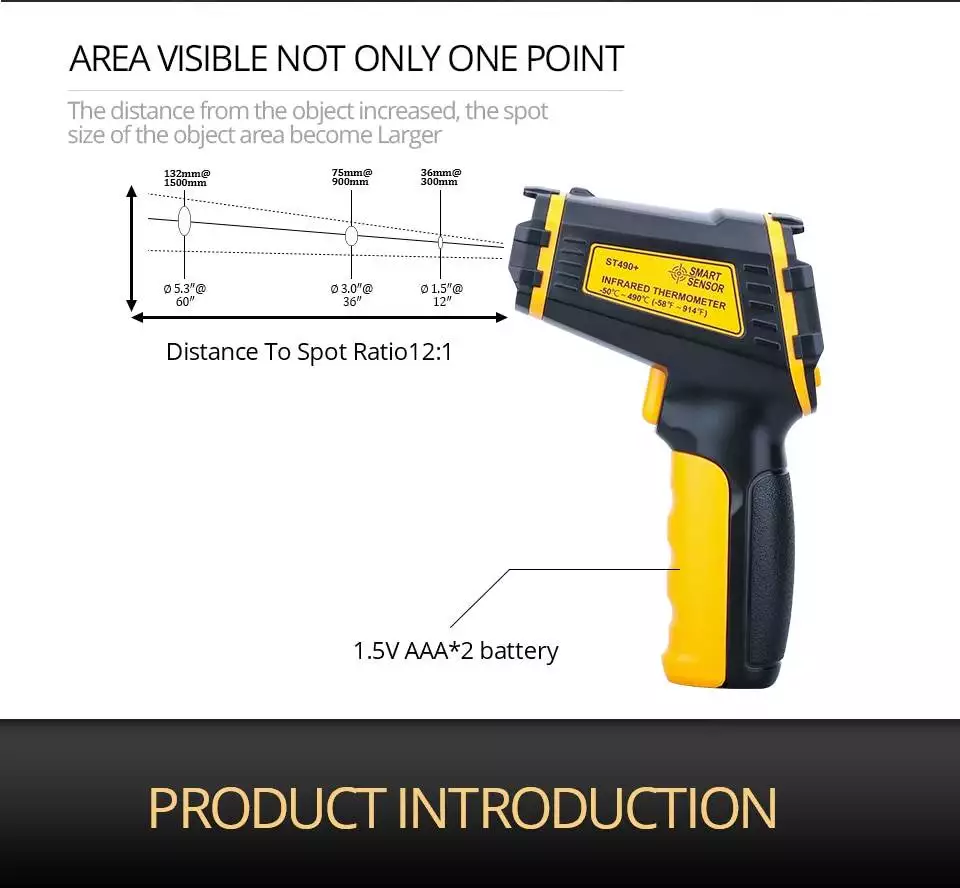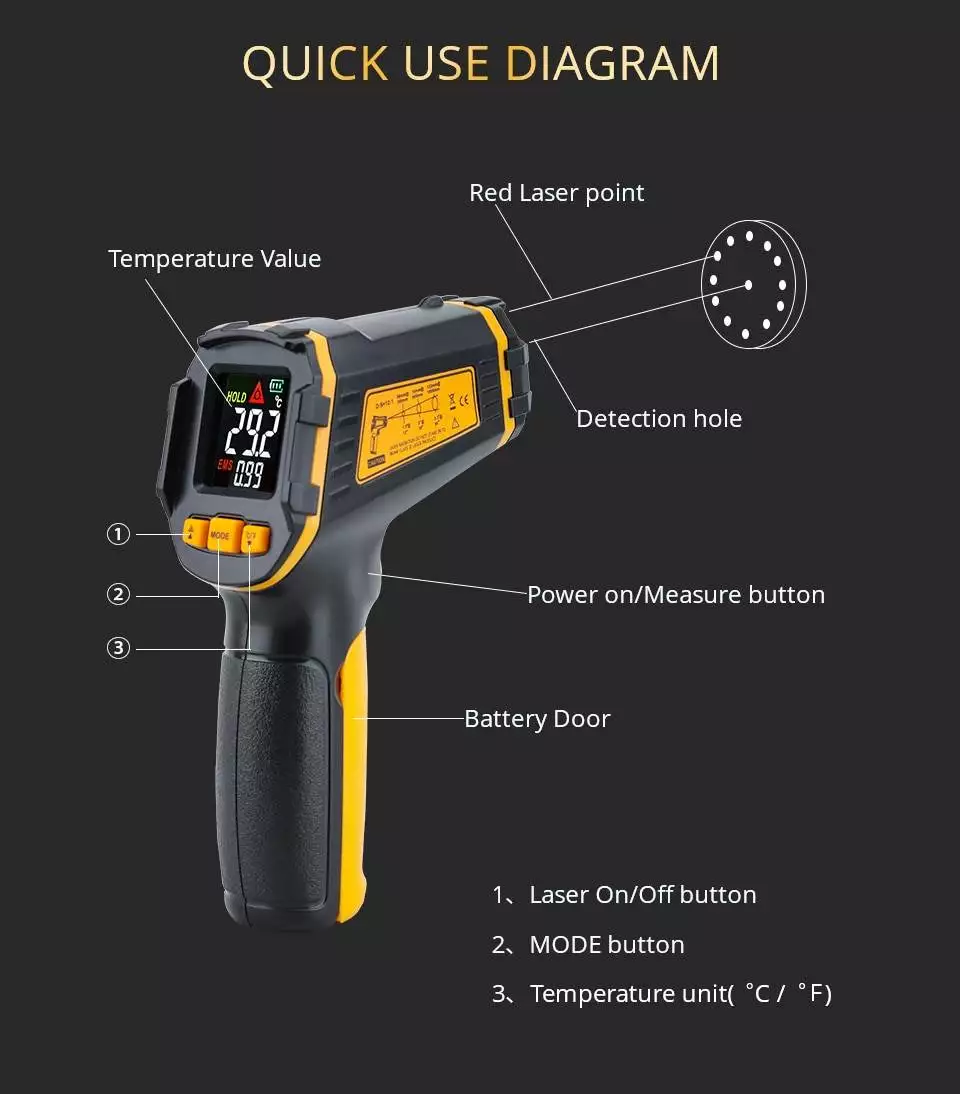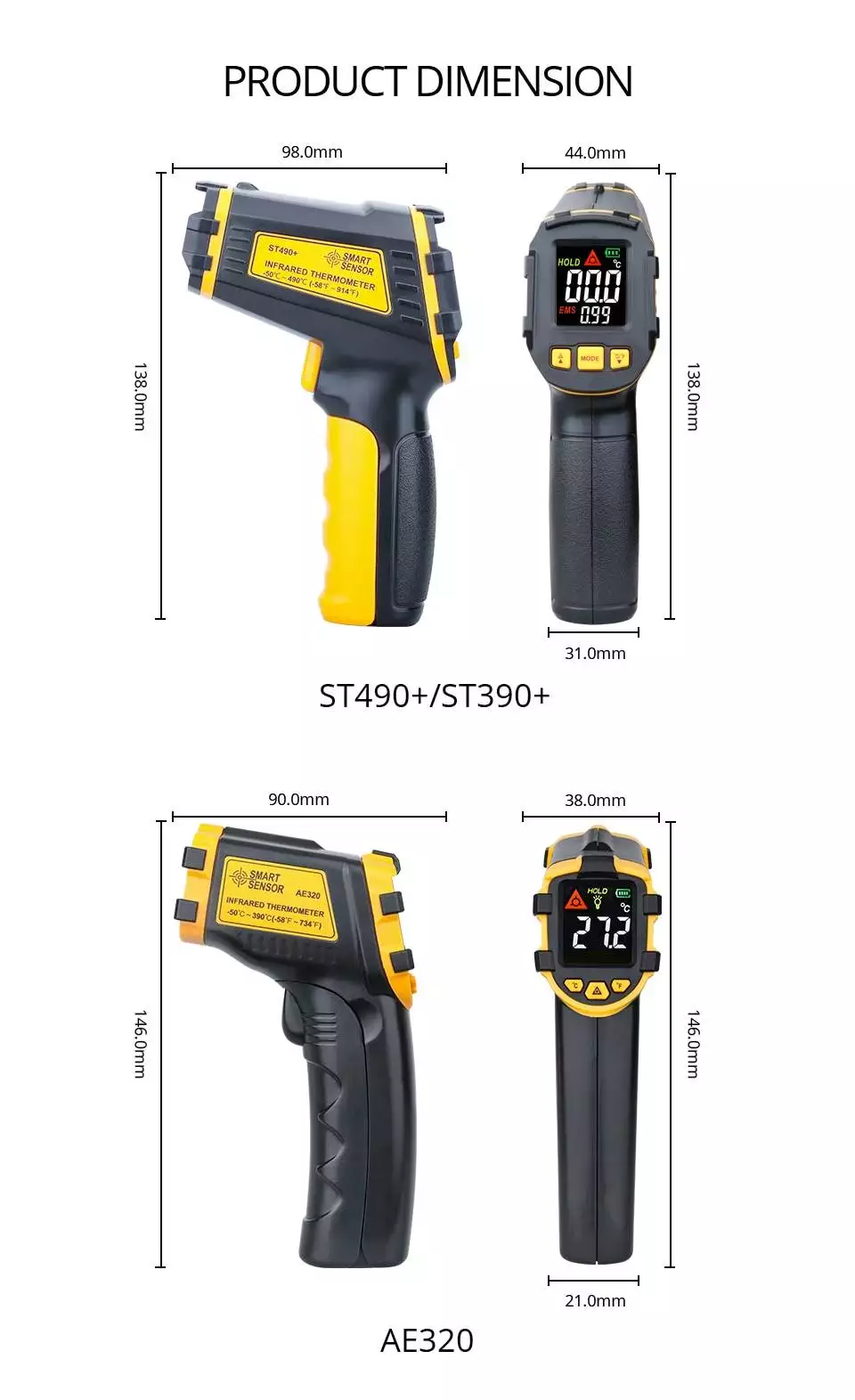 Product Photos AE320 Color LCD Display without Alarm
---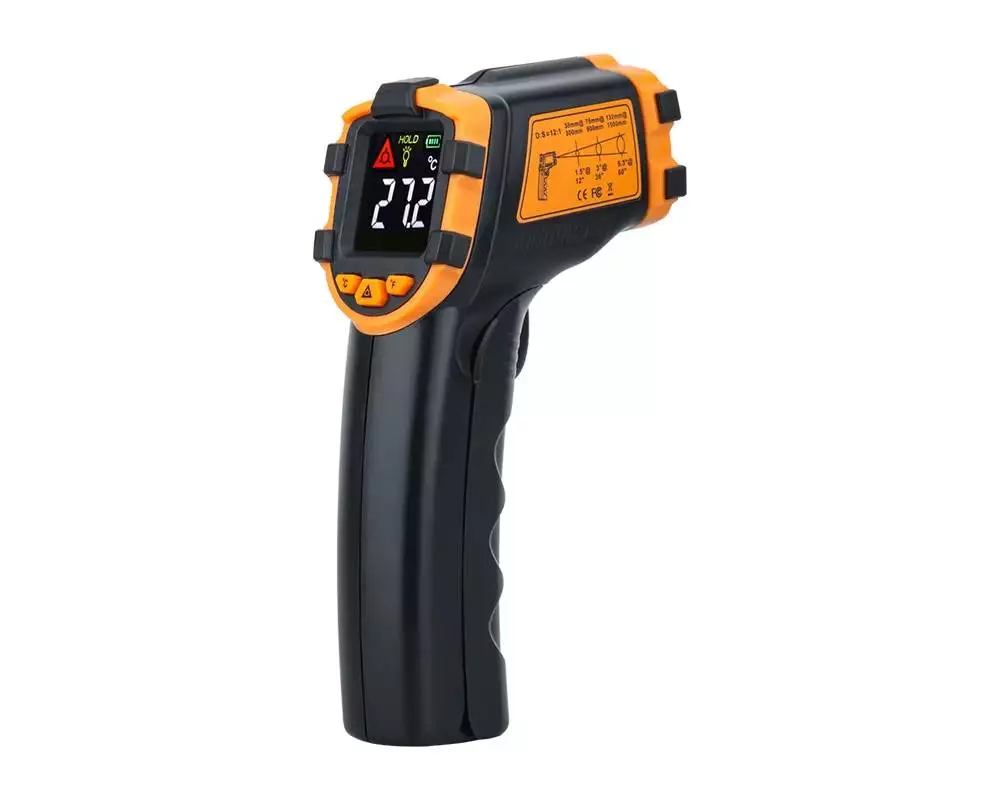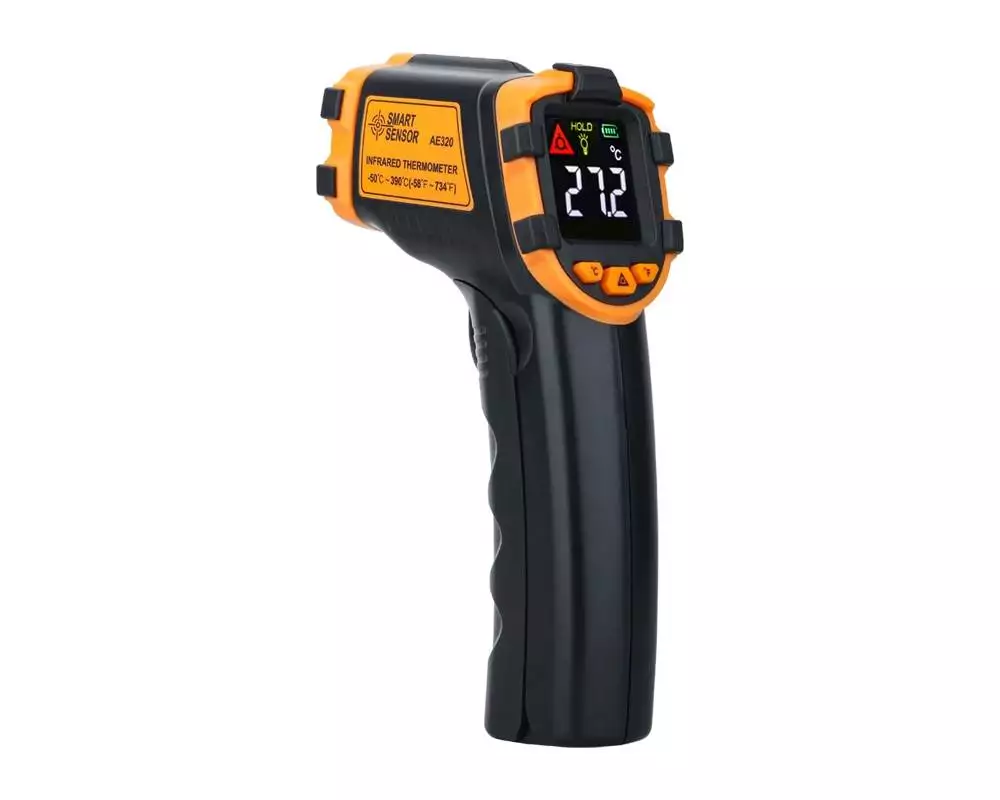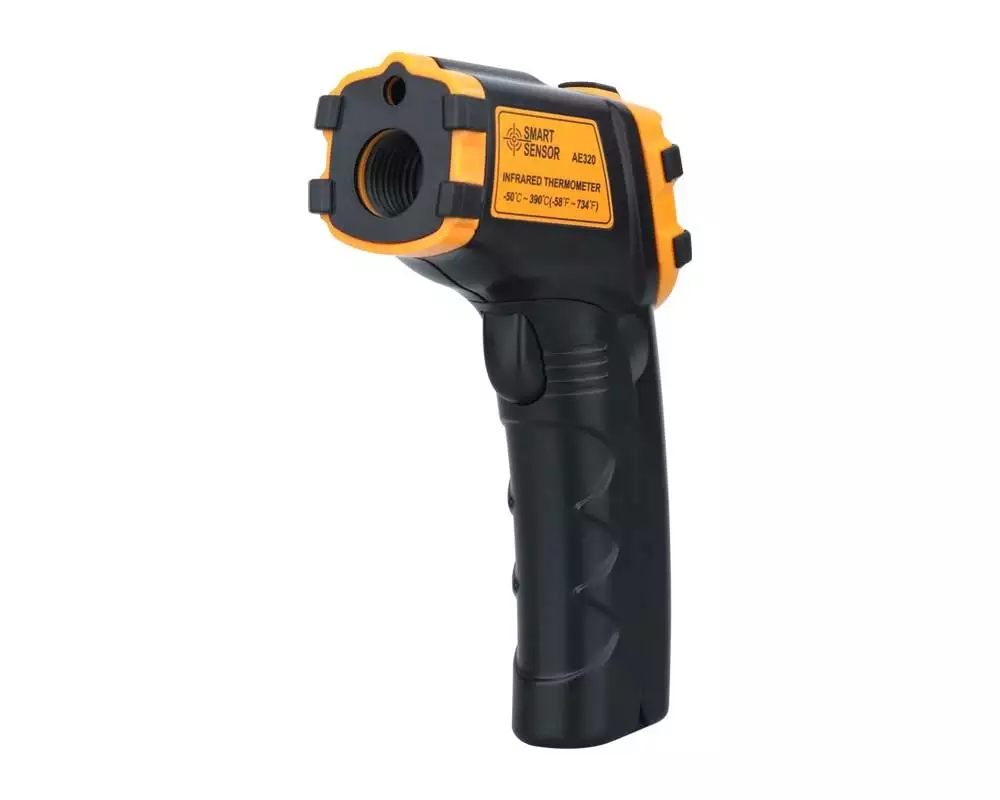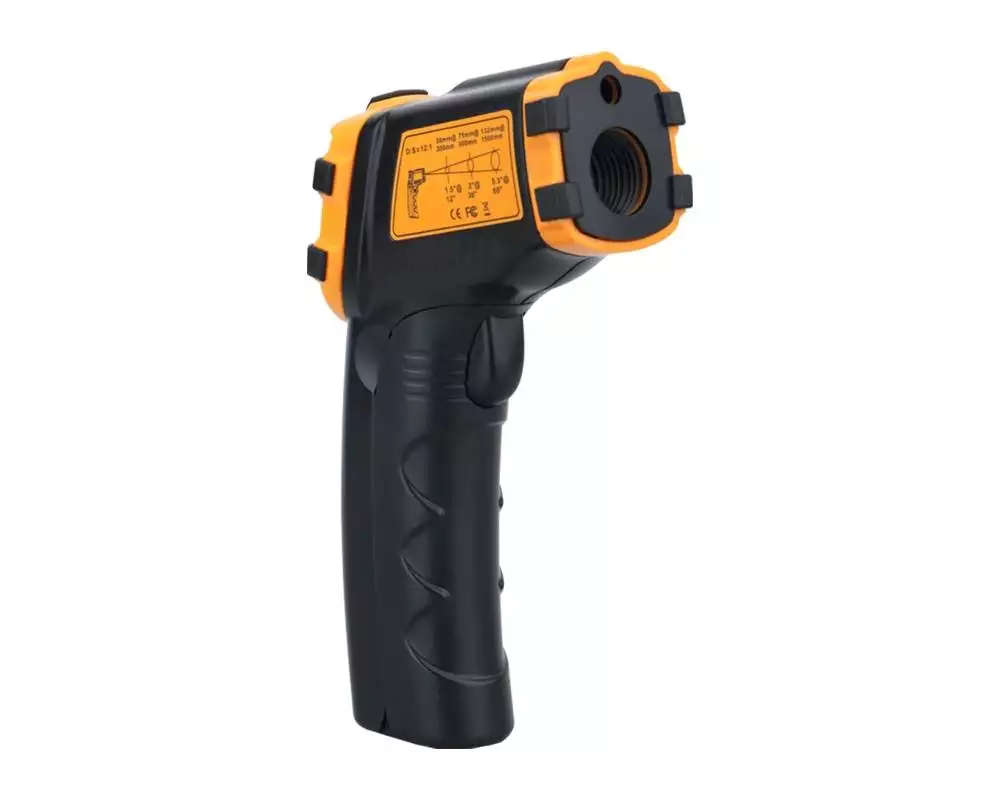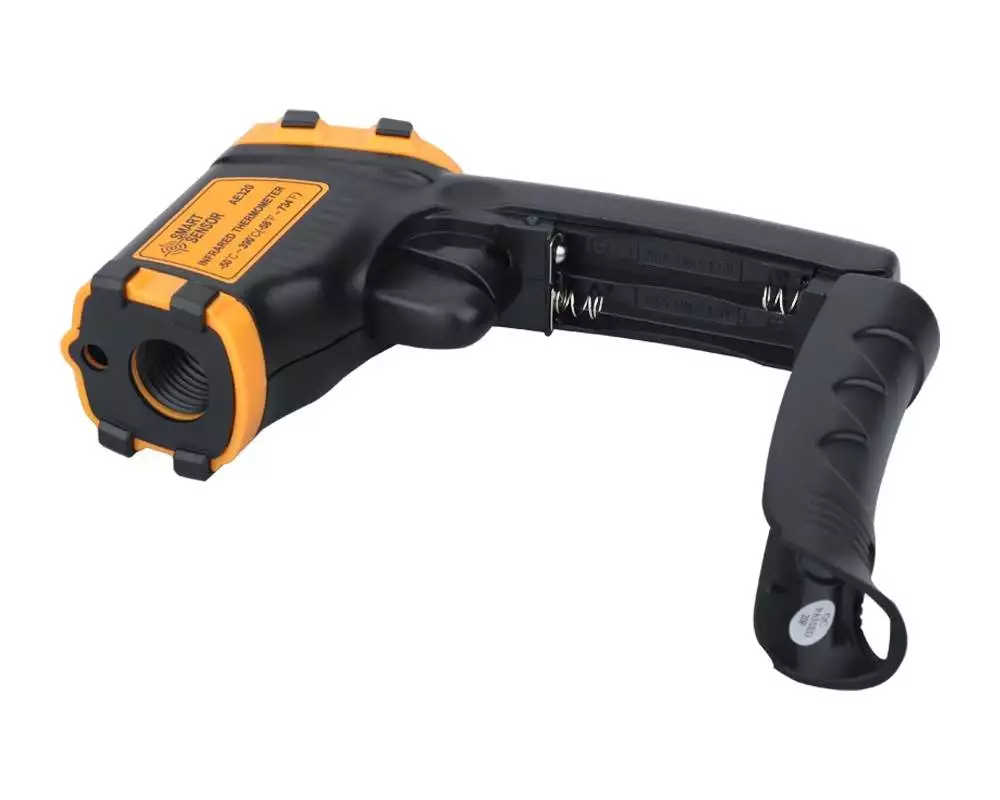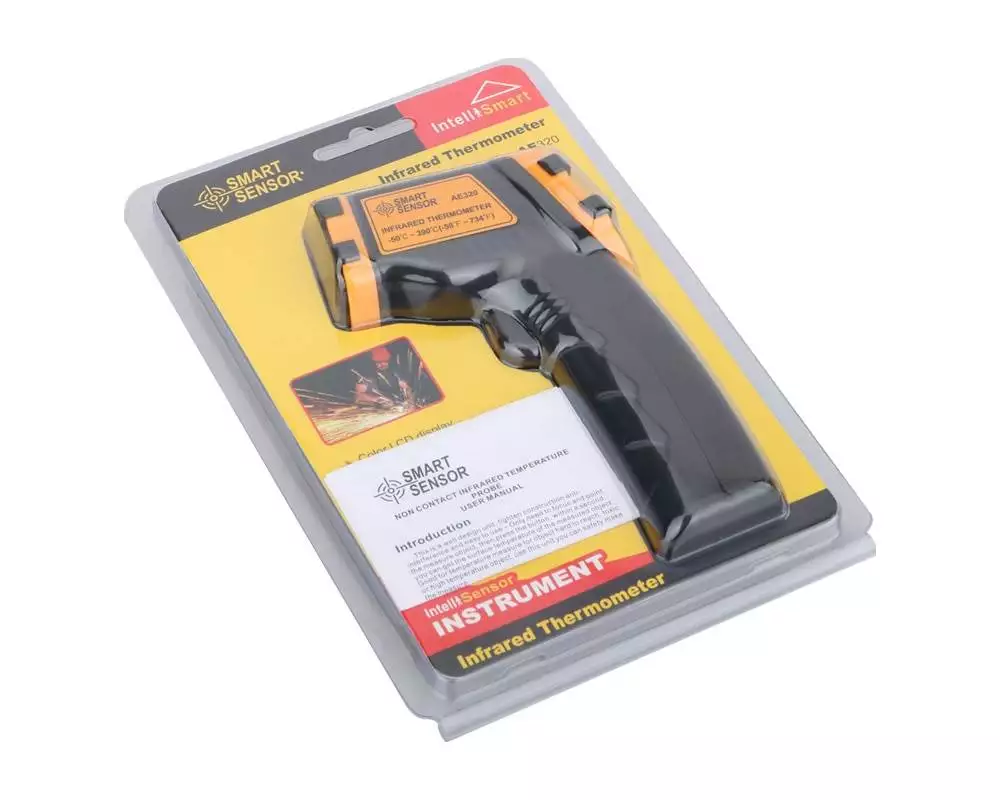 Product Photos ST390+ Color LCD Display without Alarm
---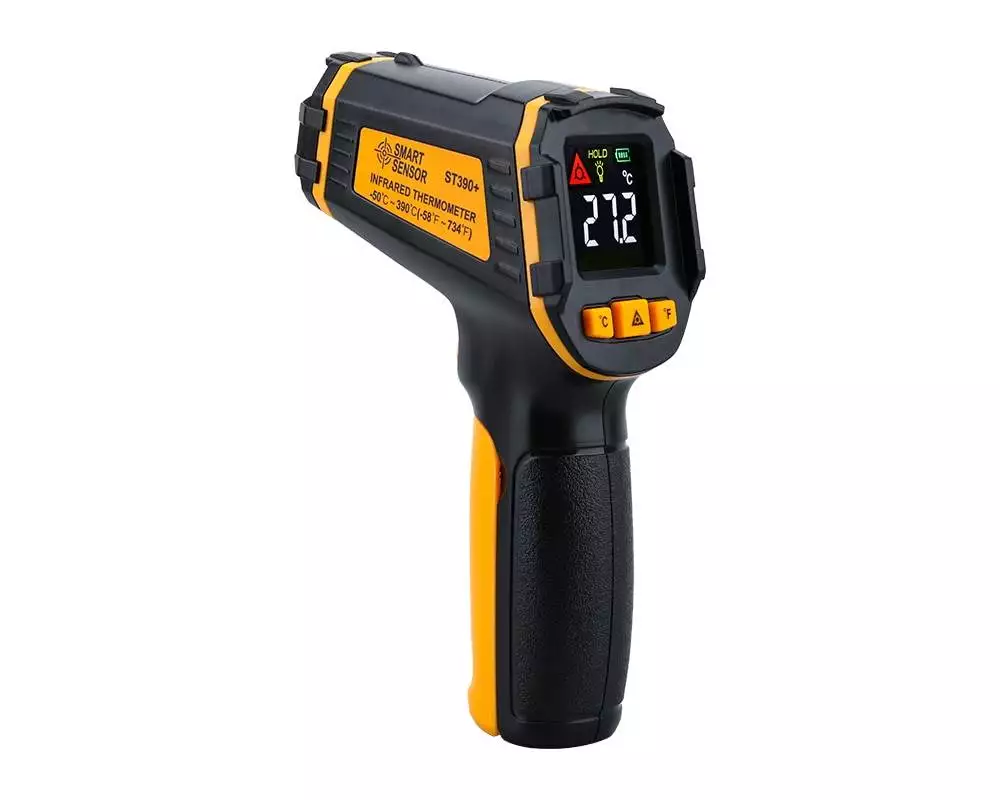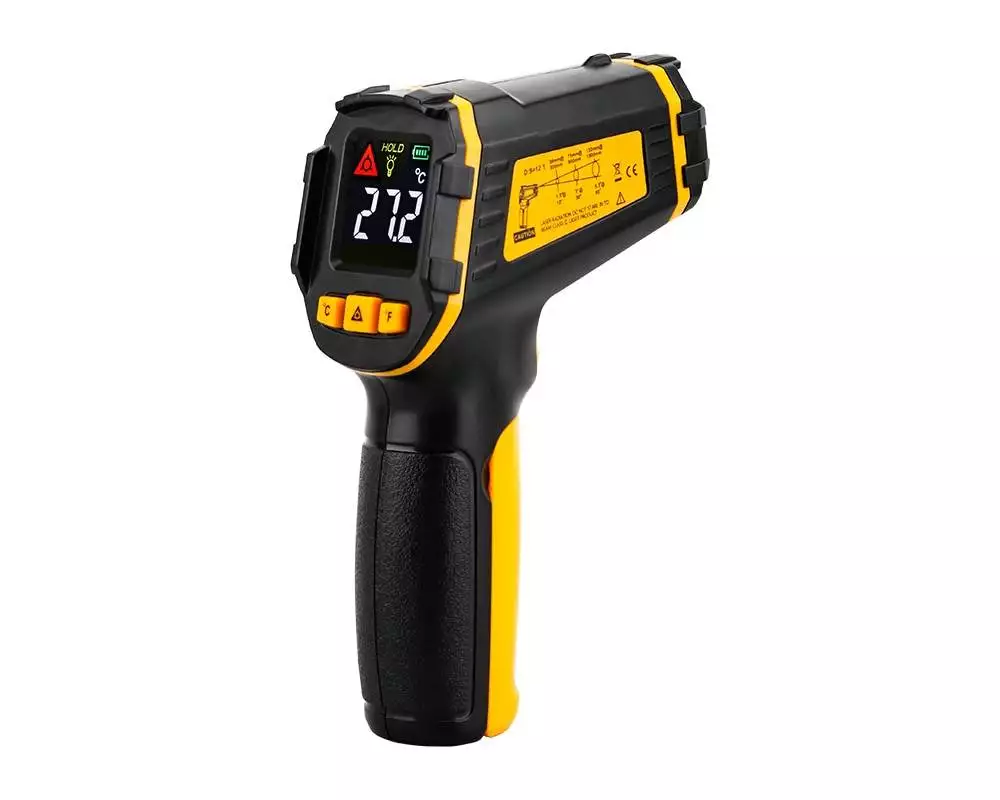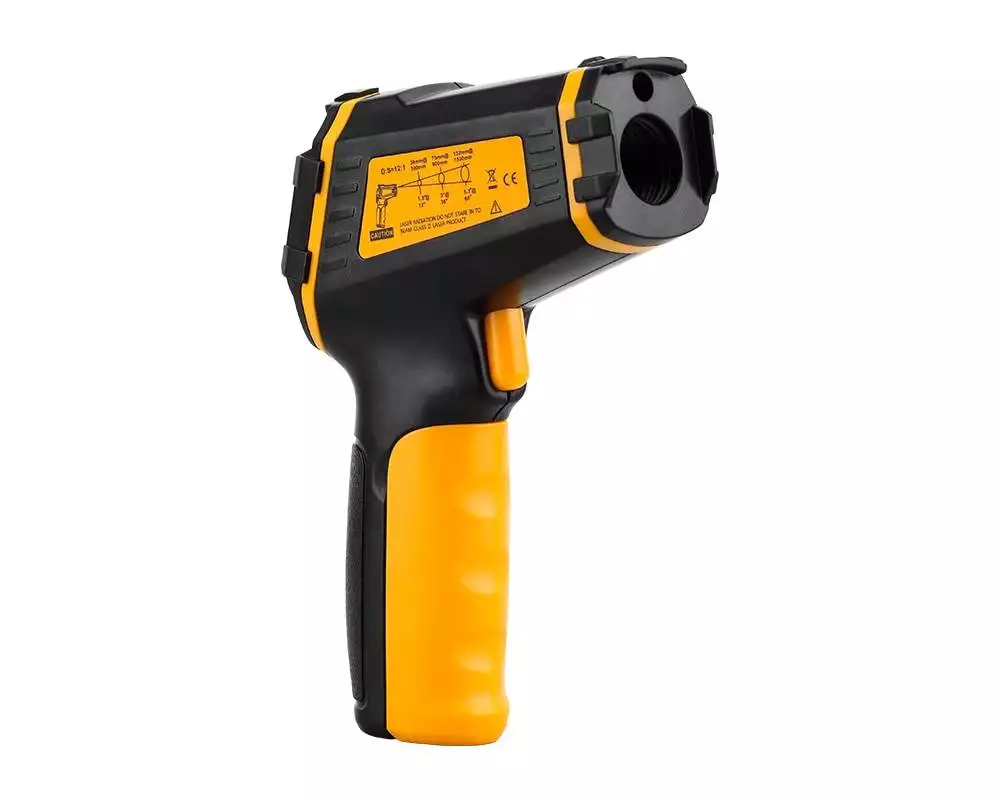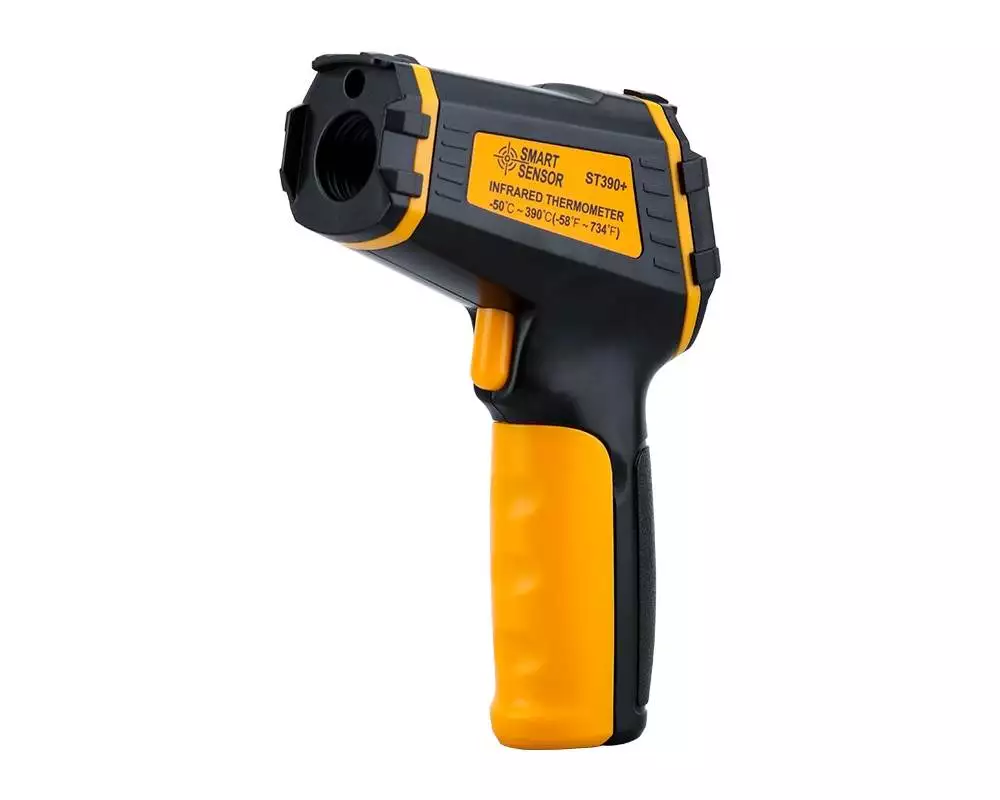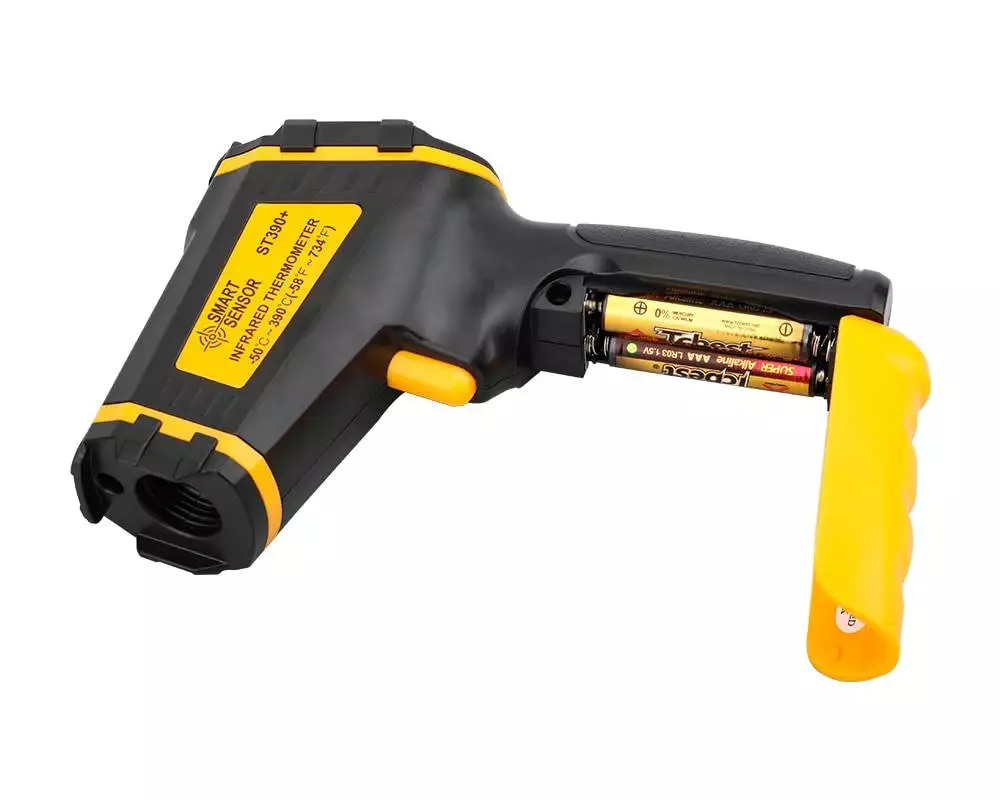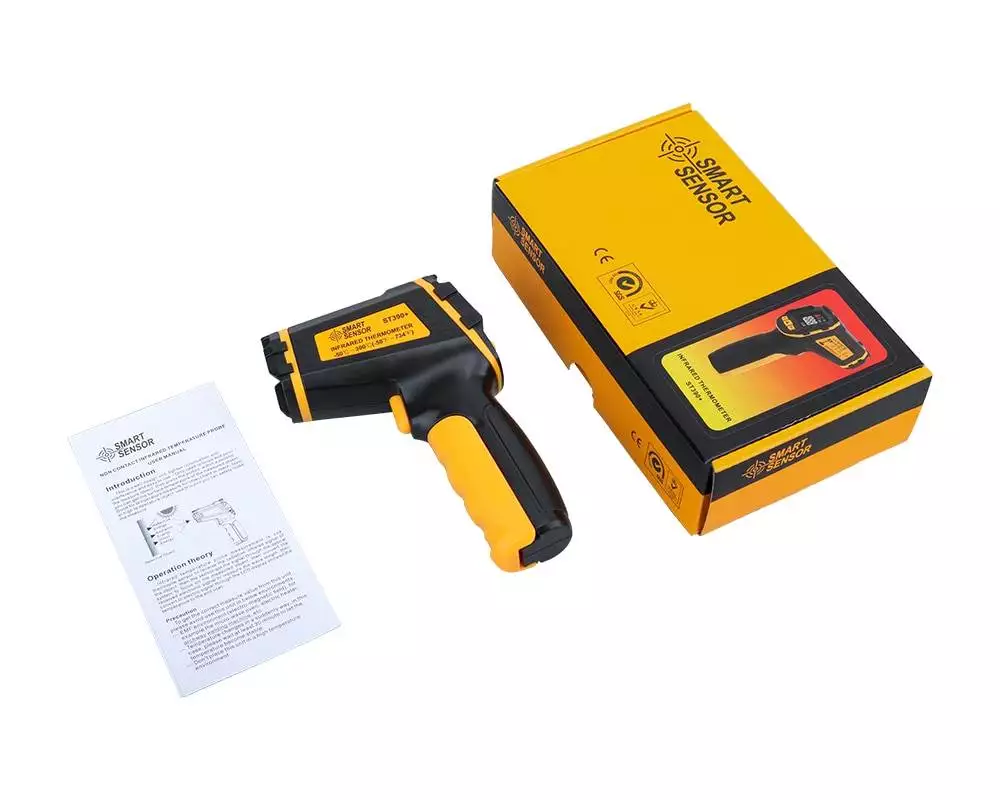 Product Photos ST490+ Color LCD Display with Alarm
---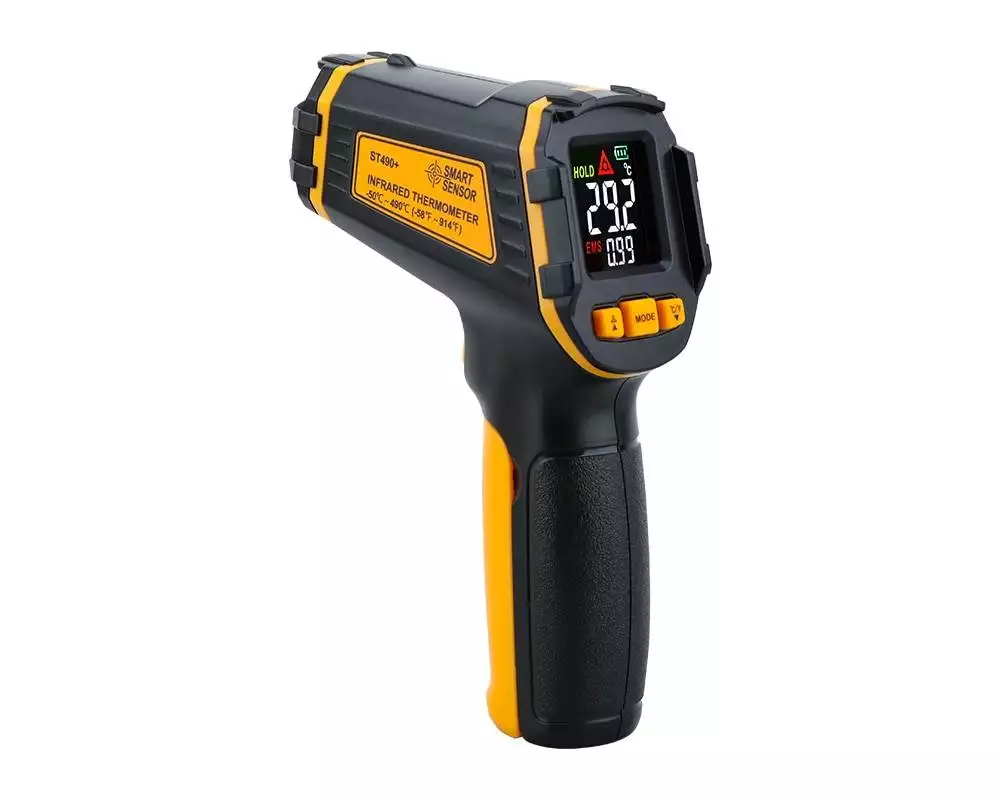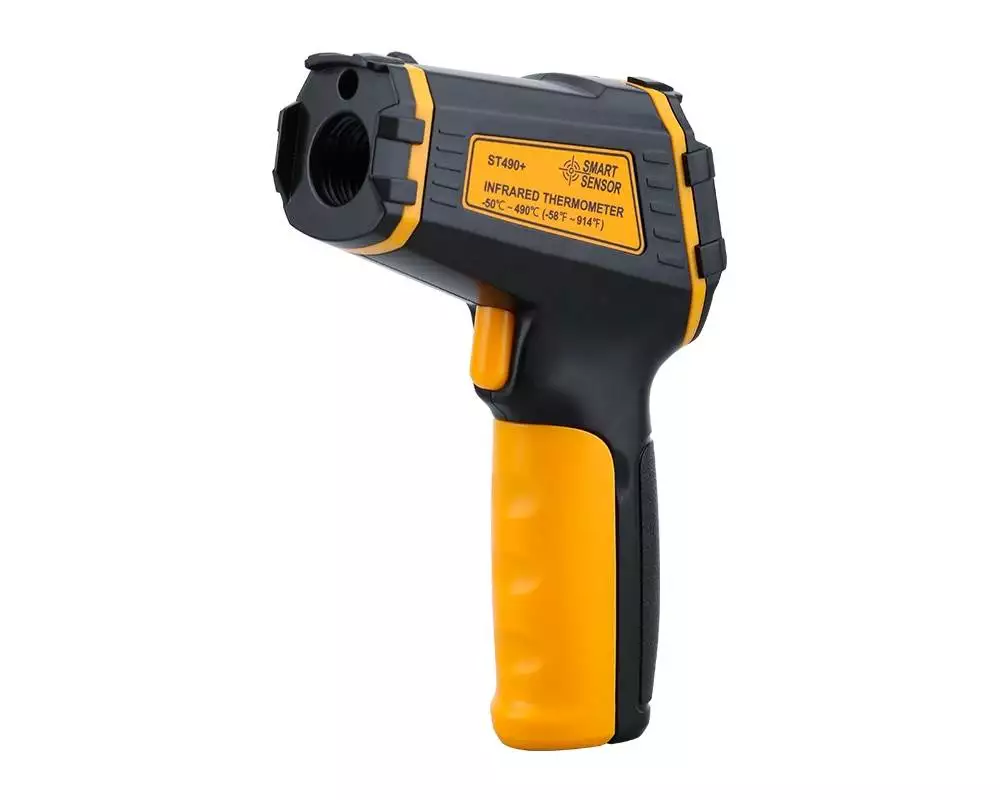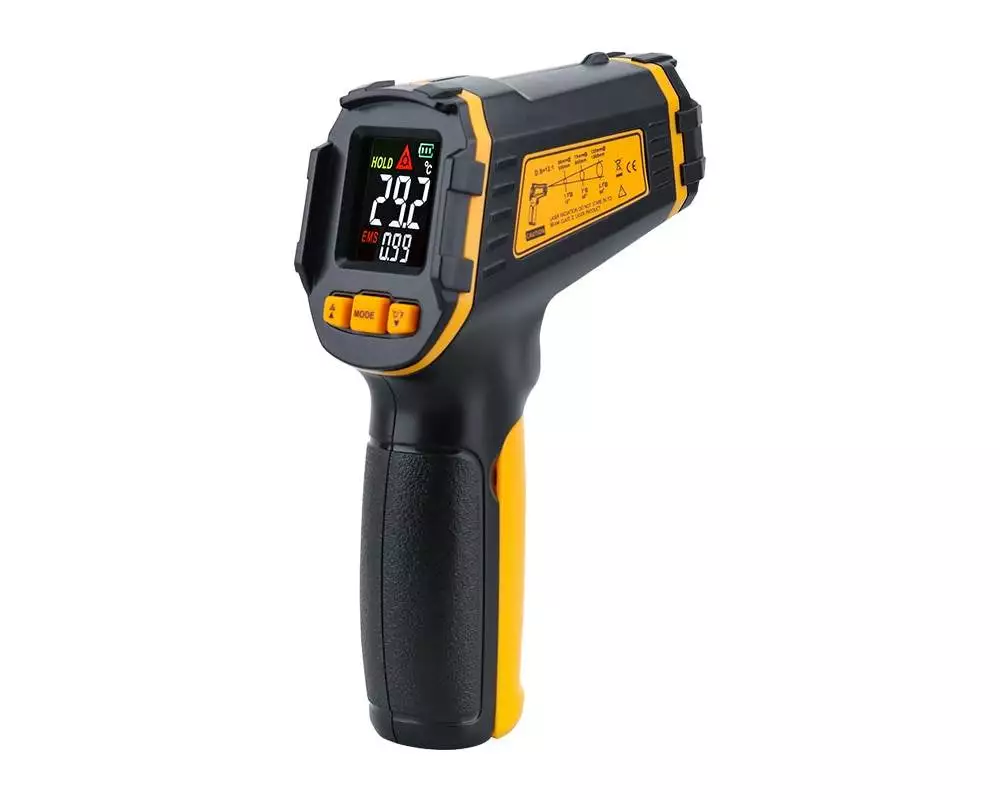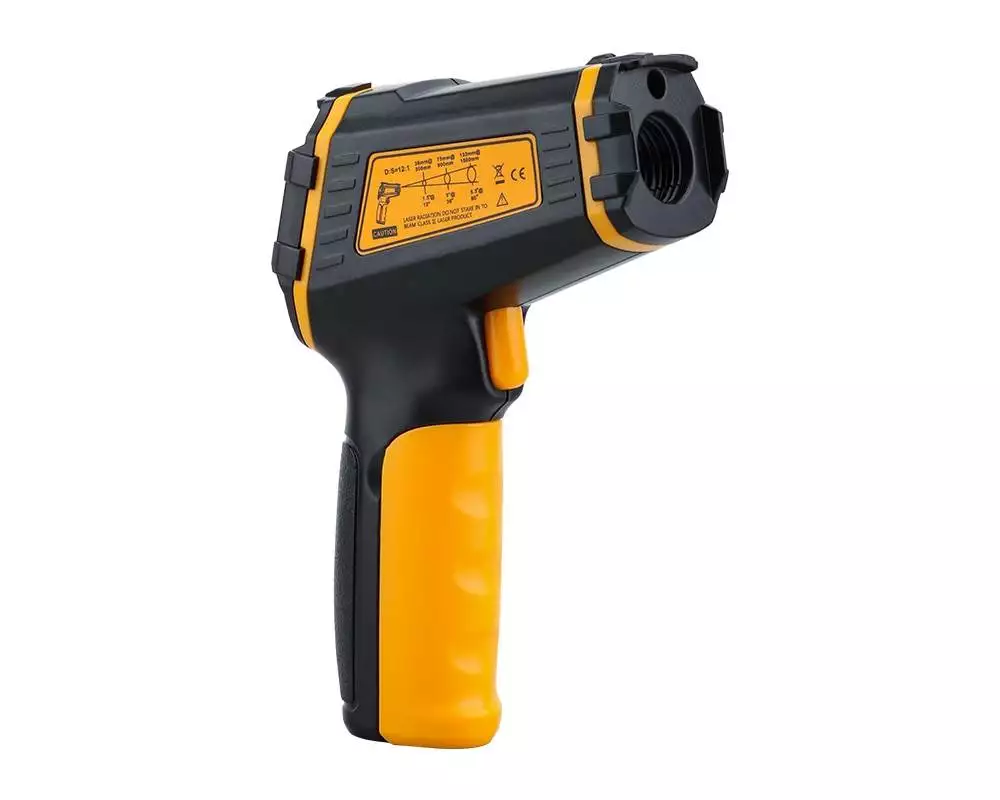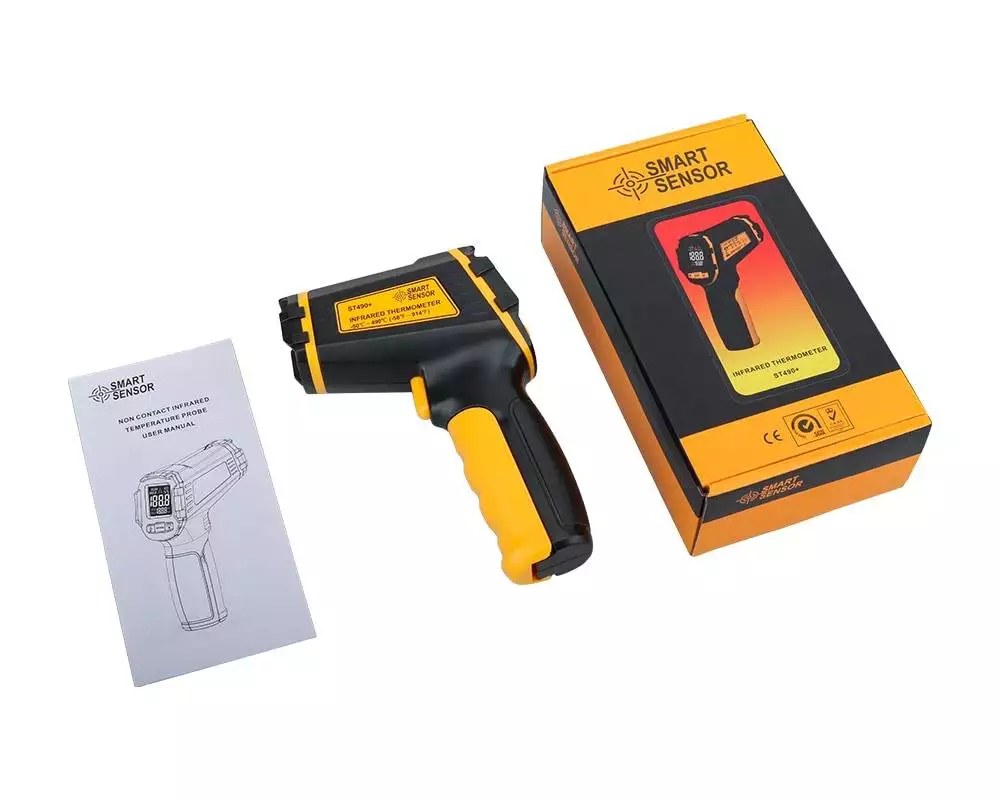 Shipment Service
---
Oversea Warehouse Service

Russian Federation

IML Express

Main City

About 7-15 Working Days

Remote Area

About 15-35 Working Days

Ukraine

IML Express

Ukraine

About 3-10 Working Days

Spain

Spain Express

Spain

About 1-7 Working Days

Dedicated Delivery Service Local Express

Local Express

Main Use Area

Estinate Delivery Time

Add

Aliexpress standard shipping

All over the world

About 15-30 Working Days

Best Choise

EPacket

All over the world

About 15-30 Working Days

Best Choise

China Post Air Mail

All over the World

About 15-30 Working Days

Best Choise

J-NET

All over the world

About 15-30 Working Days

Best Choise

DHL / Fedex

All over the world

About 7-15 Working Days

Best Choise